The Julian Sands Page:
December 1999: After some disappointing reviews and somewhat more disappointing boxoffice returns in its limited release in New York and Los Angeles, The Loss of Sexual Innocence essentially disappeared into the big screen ethers. The film has been released for sale on DVD as of mid-December, and should soon be available on VHS. Check your local video stores for possible rentals, as well. It joins Phantom of the Opera, released on DVD in late November, on the shelves. Check out the Filmography for more on these two films.
Currently filming or in production: Timecode 2000 from Mike Figgis and Love Me from French director Laetitia Masson.
May 16, 1999: "Coming Attractions", an E! entertainment news channel program has premiered the new trailer for The Loss of Sexual Innocence, due out in limited release (probably only in major cities) on May 28, 1999. During the introduction for the clip, much attention was given to virtuoso writer/director Mike Figgis, due to lingering acclaim for Leaving Las Vegas. No mention of Julian's previous work, with or without Figgis was made, but Julian was noted as the primary star of the film, and was nicely featured in the trailer.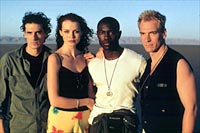 Judging from the trailer, this film has some chance at garnering some publicity, if for nothing more than being another Mike Figgis film (which it announces itself as at the beginning of the trailer). No word yet on when/if the film will be put into wide release, so keep your eyes open for it at a theatre near you. More on this and other projects in the Filmography.
May 13, 1999: - From Cynthia: "There is a one page article on the guy in May '99 issue of Movieline Mag out on stands now. Nice b&w photo of Julian, too! He discusses his upcoming role in Mike Figgis' film. Since we're well into May, you may want to quickly grab a copy of Movieline ASAP." Thanks Cynthia!
Late April, 1999: A showing of Arachnophobia on TNT's round-table movie discussion show garned (surprisingly) a few comments on Julian himself. While the male members of the panel (including a puppet!) made some derogatory comments about Boxing Helena, none of them were specifically against Julian's performance, and the one female member of the panel reminisced about A Room With a View being one of her favorite romantic films, and George Emerson a favorite romantic character.
November 22, 1998: Il Fantasma Dell'Opera has opened in Italy, and the early reviews are just starting to come in. No news yet on the release of the film anywhere outside of Italy, but a recent issue of the film industry magazine "Variety" featured the film on its cover. Unfortunately, that was the extent of the coverage in the magazine. There is no word on any U.S. release for the film.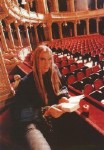 August 30, 1998: News, news and more news! Phantom's official release date in Italy appears to be on Halloween (appropriately!), with some limited release dates in September. No word on any release dates outside of Italy. Director Dario Argento is apparently opening a horror themed restaurant in Italy at the same time as Phantom's official release (again, appropriately!).
"HOLLYWOOD (Variety) - Sony Pictures Classics has picked up the North American and British distribution rights to filmmaker Mike Figgis' latest offering, ``The Loss of Sexual Innocence.'' Figgis (``Leaving Las Vegas'') wrote and directed the semiautobiographical tale and produced it with Annie Stewart, his partner in the Red Mullet production banner. Figgis, who also wrote the music for the film, has described ``Loss'' as a nonlinear collection of short stories about the phases and complexities of sexual activity. Pic stars Julian Sands (''Leaving Las Vegas''), Saffron Burrows (''Circle of Friends'') and Jonathan Rhys Myers (''Velvet Goldmine'')." -- This is great news, as Sony is a top distributor, so there are no significant worries of DLSI getting shifted off into film oblivion. Worst-case senario follows the example of Figgis' last film, One Night Stand, in that it will see limited release in most metropolitan areas followed by a brief stint in most significant theatres. Best case: we could have another Leaving Las Vegas, only with Julian in the lead....
Entertainment Weekly magazine has recently selected its 25 choices for top actor of the 90's. While they didn't select Julian, they've opened the voting on their internet site for visitors to make their own pick from 125 choices. They DID select Julian to be amongst these (which is an honor many a big-name actor did not receive), so by going to http://cgi.pathfinder.com/ew/features/980814/faveactor/index.html you can click on the button next to Julian Sands' name, and submit your vote. The top 25 vote-getters will be listed on Entertainment Weekly's website.
August 24, 1998: News from the Argento mailing list indicates that the post-production work on Phantom was not finished in time for it to make its planned showing at the Venice Film Festival this month. There is talk of an official release in October, but still no firm announcements regarding a release date.
August 18, 1998: Info from the Dario Argento Mailing List: "Those fine folks from the American Cinematheque here in LA said at their screening of SUSPIRIA and INFERNO that they would probably show PHANTOM OF THE OPERA after it opens in Italy. I'm not sure when that release date is, but I seem to remember hearing that it would be sometime this October.
Let's all hope the US screening takes place soon after that!
As far as any other news goes, well, I'm sure everyone knows that Asia Argento and Julian Sands star as Christine and the Phantom, respectfully. The only other things I know as that OPERA cinematographer Ronnie Talyor serves as the director of photography, Ennio Morricone does the music, and Argento co-wrote the script with frequent Polanski collaborator Gerard Brach."
(Looks like L.A. area Sands fans should be able to see Phantom!)
More: "Needless to say, I'm extremely excited about this film. I can't to see what Argento and Ronnie Taylor do together again. The only thing is, Argento himself has said that the film contains graphic violence and explicit sex, which in this country usually means NC-17. I have to say I'm curious how sex scenes will be done being that Asia has that huge tattoo. Hopefully I'll be wrong, but I see a censored version coming to US screens if it gets distribution here. Let's just all hope and pray whoever picks it up has the guts to go for an NC-17 or unrated release." Another list-member replies: "That would be wonderful, but, given Argento's track record with stateside distributors, I wouldn't hold my breath."
"Argento has confirmed in several interviews that Asia will be using a body double for the sex scenes. To what extent is unknown, but it may just be for below-the-waist stuff since she has already appeared topless in one of the most gratuitous nude scenes I've seen for her pop's TRAUMA.
BEWARE OF SPOILERS...
Argento has also discussed a murder sequence as seen though a haze of red candies that a child molester uses to seduce his young victims and it sounds like the famous chandlier sequence will have become quite nasty as Argento speaks of heads being crushed, eyes gouged out, etc. On the other hand, Argento has said that, as he did in TRAUMA interviews, that the violence and gore will not be as excessive as previous efforts, but that the love scenes would be very graphic. The strangest news is that Julian Sands will be the cinema's first non-disfigured Phantom! What? I don't know what I think about this, but I'll be very interested to see how it plays. In an early draft of the script, the Phantom was a masked rat-faced monster who had telepathic powers! I don't know if any of this will remain the same, probably not, but I thought you guys might get a kick out of the info. Sounds like this one will be quite unusual. Let's just hope it's in a good way."
Sitemistress' Note: While it's never ideal to have a director's vision of his work marred by the cutting needed to obtain an R-rating, with the attitude of most movie theatres in the U.S., only an R-rated version of Phantom stands any chance of being seen in any significant number of theatres (I'll cross my fingers for that R-rating, especially as truly graphic horror is not my personal cup of tea... the love scenes on the other hand...<wg>). As it is, I suspect a large number of us may still be searching for Phantom on video for our first viewing of the film, (if we can find even that!). On the up-side, it's far more likely that Mike Figgis' Death and the Loss of Sexual Innocence will be widely distributed to theatres and, eventually, on video. I haven't gotten any more information on this film, but I also haven't seen any indication that the release is expected to be much later than November.
July 13, 1998: Kate sent me the following information: "You might be interested to know that "Shivers" has an article about "Phantom." Though the photos used are the same as on Dario Argento's site, the interview with Argento is informative. According to the article, Julian Sands was the second choice to play Erik after John Malkovich who had originally considered the part. According to the article, Argento was extremely happy with Sands' performance and enthusiasm (my summary, not a direct quote.)
If you can't find a copy of the magazine, their US address is: Shivers, Visual Imagination Limited, PO Box 156, Manorville, NY 11949, Tel: (818)980-1727, E-mail: vismagus@earthlink.net. For the E-mail address, it asks you to please mention Shivers. The issue with the Phantom article is #54." Thanks, Kate!
July 1, 1998 - Information on Phantom from site visitor (I'm going to start calling him our "European correspondant"!) David M.: "According to the French magazine Cahiers du Cinema, the first 20 minutes of the film were shown at the Italian pavilion at the Cannes Film Festival in May. The test screening was such a success that the film is now an Official Selection at the Venice Film Festival this autumn. So Julian may be in for a MAJOR career resurrection! (About time, too.) Of course, Cahiers did not mention him once. It's a snooty magazine, run by up-their-arse French intellectuals who still cling to the 60's auteur theory - where the only person who EXISTS is the director. Still, they did give some interesting background info on the film. Believe it or not, Dario Argento has been trying to get this project off the ground for the past 20 years. He wanted to set the film in St. Petersburg in 1905, just before the first (abortive) Russian Revolution. The script is far more than standard slasher material. It's co-written by Gerard Brach, a French screenwriter who worked on many of Roman Polanski's best films. They've added a lot of bizarre dream sequences and - I assume - political elements. Also, because Argento is a great opera fan (me too!) there will be music by Georges Bizet, Jacques Offenbach, Jules Massenet as well as an original music score by Ennio Morricone. (He also did the music for Husbands and Lovers.) It sounds far more promising than the OTHER 'Phantom' project - a film version of Andrew Lloyd Webber's schlock musical, set to star Antonio Banderas. (Sorry, I heard enough of HIS singing in Evita!)." -- Thanks again, David!
Information (received June 26, 1998) from site visitor Kate: "Julian Sands will be in another movie coming out this year. It's called Autumn Heart. There is a web page for this movie at: http://www.webproductionhouse.com/autumn/. However there is no mention of Julian Sands on the web page." Sitemistress note: Sounds like it might be another small supporting role. We'll have to wait and see.... Meanwhile, there's a little more information on the film in the filmography.
I received the following information from site visitor David M. (April 19, 1998): "I have read a report in a French magazine (so far unconfirmed) that Julian is set to star in a new film by Susan Seidelman, who made the delightful Desperately Seeking Susan back in 1985..... The title is Gaudi Afternoon. It's a romantic comedy about transsexuals, to be shot in Barcelona. The other stars are Emma Thompson, Rupert Everett and Judy Davis. Again, I've no idea if the project is going ahead or not. It sounds like one of those wonderful ideas for a movie that kick around for years, but never get any funding....."
Thanks for the info, David!
Filming was near completion on Phantom of the Opera as of late March 1998. The filming took place in Rome, Italy, near Salerno, Italy and in Budapest, Hungary, where there is a theatre designed by the same architect who designed the Paris Opera House, in which the tale is set. Italian horror-master Dario Argento is the director for the big budget version of the classic tale. His daughter Asia and Julian Sands have the leads. Julian claimed the Erik/Phantom role despite having Gerard Depardieu, William Hurt, Anthony Hopkins, Tim Roth, Willem Dafoe, Alan Rickman and close friend John Malkovich for competition. The interiors were shot in Rome and in some underground caverns near Salerno, Italy. Phantom... is, of course, based on the classic tale, done many times over in film and live theatre. Julian's name will be added to a long list of renowned actors who have appeared in the prestigious role.

I've got enough put together on Phantom of the Opera (Il Fantasma dell'Opera) now to add two whole pages in its honor. Check out information straight from the official website and some wonderful images of Julian (with much longer hair!).
Meanwhile, Death and Loss of Sexual Innocence is another one of Julian's projects with director Mike Figgis. Julian, a Figgis staple, stars opposite Saffron Burrows (Circle of Friends) and Kelly McDonalds (Trainspotting). Shooting is in Britain, Italy and Africa. Julian has collaborated with with Figgis on Leaving Las Vegas and The Browning Version, and again in One Night Stand. I have seen a tentative release date for Death and Loss... as November of 1998, leading me to believe that filming is complete. Another report says that post-production was wrapping up in January, 1998. I found a German film site with a smidgen more information (rough translation, again): "As a cameraman (a photographer again?!) Nicolas (Sands) has contact with many exciting women, who shape his life. When he decides for the family life, his past gets him... Known for the filming of unusual relationship stories Mike Figgis has a refined camera technique and excellent telling style in his world successes Leaving Las Vegas and One Night Stand." This site reports that the film is to open in Autumn 1998.
Winter is somewhere in the production phase, but there is no news on whether filming is completed or how soon it is expected to released. Neither is there any word on the subject matter of Winter, which is supposed to be a drama, or any other information at this time. See the filmography for recent completed projects.
Also, rumors are running rampant that another Warlock movie is going into production, but all of those same sources say that Julian is not going to be participating in the project. The tone of those statements indicate that it is most likely his choice not to do so. With three projects currently in various stages of production, it's easy to see how his schedule might be a bit too full with the potentially higher-profile projects. The actor reportedly cast in the title role in the new film is Bruce Payne, who played the villain in Passenger 57 with Wesley Snipes. Coincidentally, Julian was also reportedly the actor originally intended for that role, but apparently didn't like the script. information contributed by Iris.
Speaking of the Warlock films, I discovered a disconcerting news report from April, 1998 connected to the films:
Warlock murder sparks debate
Toronto. The trial of Sandy Charles, a 14-year-old boy who killed a seven year old in rural
Canada and then boiled his flesh in what the lawyers say was an imitation of a scene from the 1989 release Warlock, has sparked further debate in Canada about links between screen violence and the effect it has on children.
The 14 year old has admitted luring the seven year old into the bushes where he stabbed,
bludgeoned and suffocated the child. Charles' lawyers have told the court that the killing was probably inspired by Julian Sands' character in Warlock, who drinks the liqueried fat of a child to gain special powers.
Charles' mother said he had watched Warlock at least 10 times.
- Christopher Pickard
I haven't seen any further news on this case. It stands as yet another incident where the acts of people who are clearly mentally unstable are connected, if not blamed, upon the media, be it film, television or music. The very nature of the acts involved make it clear that there is no question of a normal person doing this, so why such cases always require cries from social conservatives to restrain the way creative people are allowed to express themselves is a mystery to me. Nobody blames Shakespeare when young lovers kill themselves. It's time parents and politicians take responsibility instead of passing it onto someone else.....
To see my annotated Julian Sands filmography, Click Here. This filmography includes information on all of Julian's various projects, including the year they were produced, the role he played, and descriptions of the plot. This page also includes my reviews and commentary on those projects, and my top picks among Julian's projects, as well as links to on-line stores where some of those projects are available for purchase.
---
The Julian Sands Page © 1999, 2000 by WebRose Productions.
All rights reserved on original material.