The Julian Sands Page:
About Julian
(specifics are as accurate as I can make them; if you have corrections/updates, let me know!)
Born: Otley, West Yorkshire, England, - January 15, 1958, making him 41! (though you'd never guess it to look at him) -- and a Capricorn (with a Libra ascendant and a Sagittarius Moon), incidentally.
Appearance: Eyes - dark blue, Hair - blonde (of course!), Height - if you know, please e-mail me.... This is a question that not only is on the "most frequently asked by site-visitors" list, but is near the top of my own "most wanted information list". While previous information seemed to indicate he was around 6 feet tall, more recent sightings have put guestimates at around 5' 10". (The next time someone runs into him, do me a favor, and just ask him, would you? ;)
Marital/Family Status: married to screenwriter Evgenia Citkowitz; has a son with his first wife, British journalist, Sarah Sands (they separated about 1986).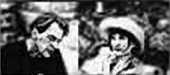 Evgenia was reported to be pregnant in 1996, but I have found no further information any children. (Incidentally, Evgenia has a noble lineage, being the daughter of Lady Blackwood, who died in February 1996 - the family line reportedly can be traced back to James I). - information contributed by M.M.


Family landed Julian in the gossip columns in the fall of 1999 when an argument with his son during a drive resulted in a run-in with the Los Angeles police. Reports indicate that his son may have made a complaint to the police about being hit or slapped during the argument, but that a brief discussion with the police cleared the matter up as a normal father/teenage-son dispute with no charges ever being filed. Just goes to show that celebrity status will pull a normal life into the headlines every time.
Home: London and Los Angeles. He also travels much of the time both for career and pleasure (see the location notes on Phantom of the Opera and his hobbies, below).
Hobbies: Julian loves gardening, and is said to have offered visitors to his Southern California home olives from his own tree, as well as roses and herbs from the English-style garden. He is also an avid mountain climber: indeed, he was intending to go on a climbing expedition to Mt. Everest in 1996, but cancelled the trip due to the death of his mother-in-law and his wife's pregnancy. In an article in The Telegraph, Julian was quoted as saying the recent deaths on Everest did not deter him from wanting to climb, as he trusts the people he climbs with. - information contributed by M.M. While there's not a lot more that we know about Julian's hobbies, I did find a report that he'd been at one of three sold-out concerts by the Sex Pistols in Los Angeles in 1996. Kind of puts a twist on that classical music/opera persona, eh?;) He also turned up at punk-oriented unofficial event at the 1998 Sundance film festival. The Violent Femmes entertained.

In terms of close friends, Julian is said to have remained close friends with Jodie Foster, who appeared with him in Siesta and was at one time romantically linked to him.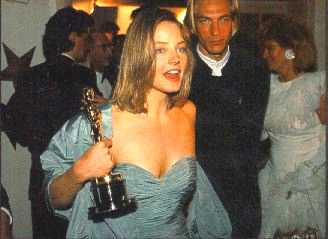 On a silly private-life note, the news of Jodie Foster's pregnancy (Foster appeared in the film Siesta with Julian) has brought up a resurgence in mentions of Julian in the rumor mill. They have the same agent, and are said to be close friends aside from the romantic rumors. The identity of the father of her child (a baby boy delivered in late July 1998, named Charlie) has been the subject of much speculation. (the other top candidate is her Contact costar, Matthew McConaughey - which sounds about as unlikely).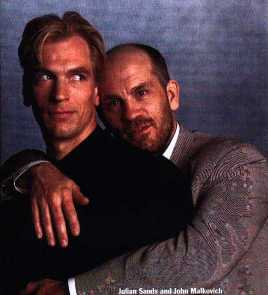 He was also close friends with John Malkovich, at least as of 1994, when the two did a photo-layout together for GQ. In the accompanying text, Julian jokingly reports their friendship as "a location romance that lasted" from working together in The Killing Fields. Malkovich, for his part, said he became friendly with Julian after hearing he was "too sensitive" and "incorruptable", whereupon he decided to be Julian's bad influence.
Julian is also a fan of French-born jewelry designer Carolyn Roumeguère, who grew up among the Masai tribesmen in Kenya, and combines Masai tribal motifs with contemporary styling. In addition to its use as an adornment, her pieces are often displayed as artistic or decorative elements in the home.
Work: Interested in acting from the age of six, Julian Sands trained at the Central School of Speech and Drama in London. He went on to form a company that performed in small fringe establishments and schools. He studied with Derek Jarman, who offered him his first screen role in the short Broken English. Julian then got some work in television and a one-line part in the film Privates on Parade (1982). His first significant screen role was a supporting part in Roland Joffe's The Killing Fields (1984), following which he gave up theater for full-time work in the movies. He has gone on to a busy screen career, playing everything from a psychologist to a schizophrenic to a drug addict. See the Filmography for a complete listing of his dozens of big-screen roles.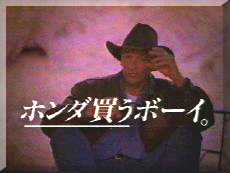 Other than a long list of major (and not so major) film roles, Julian appeared as an anthropologist ("Researcher") in a 1996 episode of the television hospital drama Chicago Hope (more on that later...). That was a major year for him on the small-screen, with the pilot for the never-realized CBS series "The Tomorrow Man" and the television movies The Great Elephant Escape and End of Summer, as well as an episode of the HBO late-night series "Strangers". He also did a commercial for the Honda sports-utility vehicle CR-V that year. (Friend and co-worker Jodie Foster also did a Honda commercial for Japan....)
Julian was also a leading candidate for the movie role of Lestat, the vampire of Anne Rice's famous novels. He was reportedly Rice's own choice for the role (and mine as well, even before the movie was a dream in some producer's mind), but the studio decided to go with near-guaranteed box-office pick, Tom Cruise. Rice was said to be vocal in her objections, but backed-off after the movie went into production. The rest is history. (Though I doubt Rosie O'Donnell would agree, I think we lost out on this one.)
Meanwhile, we have the following: "My present choice for Lestat is Leonardo DiCaprio. I was excited about Leonardo DiCaprio playing Lestat two years before "Titanic" was made. Leonardo DiCaprio is my Lestat right now..." -- Author Anne Rice on who she'd cast as "The Vampire Lestat" in future film adaptations of her books, 4/14/98
(Perhaps the role of Marius for Julian, then?)
Julian's own favorite role (from E! online): "Night Sun. It was very big in Europe--it wasn't shown in America. But the film I'm really most proud of is the one I do next. And I don't even know what it is! But I'm talking to people." (NOTE: as of November 1999, Night Sun has finally been released in the US on VHS video. This is the British version, in Italian with English subtitles. While Julian's voice has been dubbed in by an Italian actor, the limited dialogue of the Tolstoy story allows Julian's acting to shine nonetheless. It's well worth the viewing.)
Most frequently worked with: Mike Figgis (Director), Peter Pabst (Costumes), Risa Kes (Casting), actors - three-way tie: Nastassja Kinski, Joanna Pacula, Gabriel Byrne
Contact/Fan Information:
Julian Sands
c/o ICM,
8942 Wilshire Boulevard,
Beverly Hills, CA 90211, USA

(Incidentally, ICM also represents: Arnold Schwarzenegger, Susan Sarandon, Billy Zane, Julia Roberts, Natalie Portman and Julian's long-time friend John Malkovich. I say this in reminder that mail sent to him via ICM may be amongst thousands of pieces of mail they handle every week, and thus subject to all of the involved delays and problems involved in such a mass of post received by such an agency. Julian and Jodie Foster have also shared the same publicist, though I have not been able to confirm that agent and publicist are the same thing in this case.)

There is another potential way to contact Julian, though it will likely not result in any better or faster results: Celebrity E-Mail is an on-line facility that accepts e-mail messages for celebrities and forwards those messages to the celebrity either via their e-mail address (if they have one, which Julian does not, as far as is known...) or via regular post. I imagine any e-mail sent to Julian though this forum will simply be forwarded to him via ICM as would regular postal mail, but you are welcome to try it out: CelebrityEmail.com - Mailbox for : JULIAN SANDS
---
The Julian Sands Page © 1999, 2000 by WebRose Productions.
All rights reserved on original material.